Ta Vrahakia
Hotel, Tavern - Restaurant Sarti Chalkidiki
---
Hotel "Ta Vrahakia", is based in Sarti, Chalkidiki, offers for many years now, a comfortable stay full of unique and beautiful moments in the beautiful peninsula of Sithonia.
It consists of 15 double and triple rooms, as well as two-room apartments that offer all the modern comforts to ensure a wonderful and relaxing stay for every visitor.
All of our hotel rooms are tastefully designed and designed to give the visitor a sense of tranquility and relaxation through simple and functional décor. They have air-condition, TV, private bathroom, refrigerator, kitchen, kitchen utensils and a balcony where the view is awe-inspiring and reverent, stretching in front of you the splendor of Mount Athos.
Our hotel has parking, playground and grill - barbeque that can be used by all our hotel guests.
After a busy day, the relaxed atmosphere of the hotel creates the perfect backdrop to rejuvenate and spend unforgettable holidays.
Just a few meters from our hotel is our beach bar "Ostria" where you can relax, take a swim and enjoy a cool refreshment, coffee, snack or cocktail lying on the sun loungers.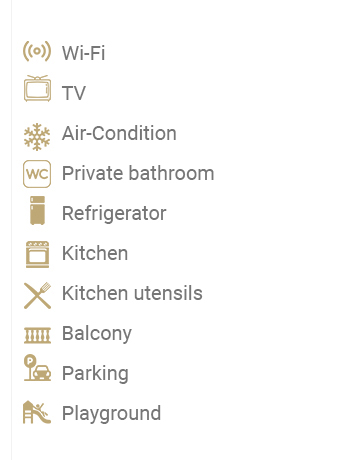 Photos
---
Our staff, always pleased and ready to satisfy your wishes, awaits you for an unforgettable stay that makes you dream of staying in Sarti in the best and most hospitable way.

With compass the unparalleled warmth of hospitality and elegance our hotel "Ta Vrahakia"
Promises to every visitor an unforgettable stay.
---